Trodat Printy 4916
Custom Self-inking Stamp
More Information
Order Your Custom Stamp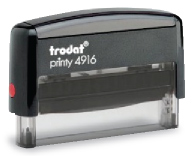 Trodat 4916
Self Inking Stamp
Plate size:
2-3/4" x 3/8"
Applications for this stamp:
Sometimes you only need to write your name or company name in a single line.
Notaries use this for commission expiration dates when law requires it to be a separate stamp
In this case the Trodat Printy 4916 is the ideal choice, it fits a long line of large text.
This stamp is only available in the black and grey classic style Printy
Ideal for:
URL or website address
Signature stamps
(Name with line above for signature)
Single line long company names
Phone and fax numbers stamp
Short one line leggends or warnings
Any other application you can think of...