Trodat Ink
Original Trodat water-based ink for rubber stamps, stamp pads and Self-Inkers
Each 2/3 Oz liquid ink.

Original Trodat Ink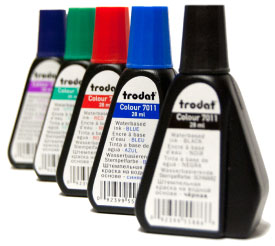 Trodat water based ink The Trodat ink is ideal for use with rubber stamps and regular inkpads.
Generally, it is not recomended to use with the Printy line of self inkers, however, if the inkpad is not marked (deeply embossed) or the sides of the inkpad are not curled, it can be used safely.
When used on printy pads, be careful not to overink. Use just a few drops in a circular path along the edge and center of the inkpad.
As a general rule of thumb, the less ink you can use, the better the print quality. Print quality can be severely affected with too much ink in the pad.
For better results and a completely renewed stamp, order a replacement ink-pad.