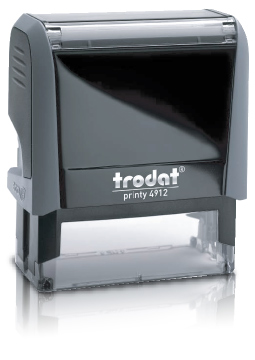 Trodat 4912
Self Inking Stamp
Plate size:
3/8" x 1-1/32"
Applications for this stamp:
The trodat printy 4912 is the best seller in its class. It can be used for up to 4 lines of text which gives this model great versatility.
Used for notaries and other professionals for official credentials like license numbers, commission numbers and expirations, etc.
It is also used for informational messages to be posted in forms, letters, invoices, etc.
Useful for messages with credit terms, instructions, collection or past due stamps etc.
Ideal for:
Check endorsement stamp
Business promotion stamp
(address + phone numbers)
Name and address stamp
Address changes (just moved?)
Name, title and professional license
Notary stamps
It's the undisputable leader in the
return address stamp arena.