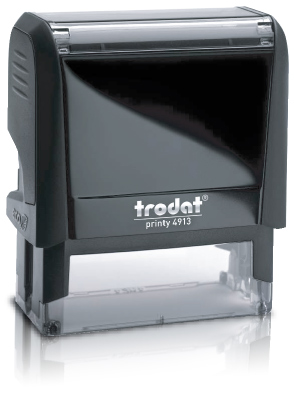 Trodat 4913
Self Inking Stamp
Plate size:
7/8" x 2-3/8"
Applications for this stamp:
The 4913 is the best seller of the Trodat Printy line.
It can be used for all the applications covered by its smaller sibling with the advantage of adding more lines of text or enlarging the font size to improve clarity.
You can create complete mini forms with this stamp.
Up to 4 lines of text can be fit (sometimes more)
It is popular with Doctors for Prescription stamps.
Also attorneys use this stamp for legal notes attached to forms for emphasis or legal clauses.
It is the most verstile model in the Trodat Printy™ line.
Ideal for:
Check endorsement stamp
Return address stamp
Business info stamp
(address + phone numbers)
"We have moved" or "New address" stamps
Business promotion stamps
(almost replaces business cards)
Name, title and Professional License
Notary stamps