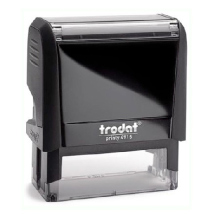 Trodat 4915
Self Inking Stamp
Plate size:
1" x 2-3/4"
Applications for this stamp:
This stamp is ideal for long names, family names or company names.
If you want 5 lines of text at a very legible size for clarity and certainty in your messagem this is the right choice.
Notaries use it for Jurat and affidavit wording, and also for commission stamps in states that require a state seal to be included.
Also it's excellent for one word messages like PAST DUE, important warnings like URGENT, PRIVATE, FOR YOUR EYES ONLY, etc. Large enough to never be missed.
Ideal for:
Legal notes or warnings
Collection of PAST DUE invoices
Notifications and addition to documents.
Business information stamp (address, phone numbers, website address, etc)
Prescription stamp for healthcare applications
Name, title and professional license
Notary stamps
Anything you want (fully customized)