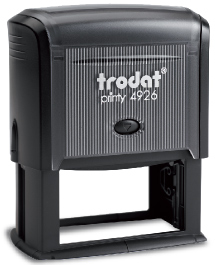 Trodat 4926
Self Inking Stamp
Plate size:
1-1/2" x 3"
Applications for this stamp:
Similar to the 4927 the Printy 4926 image area is slightly longer and less height.
Since is priced in the same range many times we use it to replace the 4927 in orders where the text is longer or must remain in the same line.
Like its sibling, this model allows you to create complete forms with text and blank spaces to be filled. Even full legal contracts can be created in a single stamp.
If you have a long text message that needs to be repeated to all your customers, this is the perfect solution.
Doctors use it for long detailed prescription stamp.
Legally binding contract additions can be stamped as addendum to legal documents.
Complex forms can be created with lines of text, checkboxes and more.
Ideal for:
Legal notes or warnings
Business info stamp (address + phone numbers) for maximum visibility
Entire forms to be completed
Legal text or disclaimer stamps
Long texts, informational tables
Notary jurat or affidavit stamps
Warnings and Importan messages
Label fragile or dangerous packages
Whatever you need it for...